Inaugural Andy Damery Memorial Scholarship Selection
This year marked the presentation of the first, and what will become annual, Andy Damery Memorial Scholarship. This $1000 scholarship is given to a Sun Valley High School Band senior to be used for higher learning educational expenses.
The scholarship is given in honor of Andy Damery, a 2003 Sun Valley graduate and percussionist with the band program who passed away unexpectedly in January 2016 due to an undetected heart defect. This annual scholarship is presented to a senior band member who epitomizes Andy's passion for music and love of performing. Students were asked to submit an essay describing how music has played a role in their life and how they intend to keep music alive in their life after high school.
This year's Andy Damery Memorial Scholarship winner is Joe Bulla, a saxophone player. Joe plays the alto sax in the concert band and tenor sax in the jazz ensemble. He will use the scholarship to assist with his studies in the fall at Appalachian State University.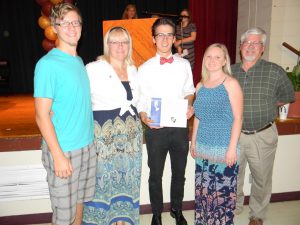 Joe Bulla (center) receiving the Andy Damery Memorial Scholarship. Assisting with the presentation is Andy's wife, and former flute/piccolo player, Cassie Damery, Andy's brother Logan, and his parents Beth Damery and Rod Damery.