Spartan Sound Plays in the Rain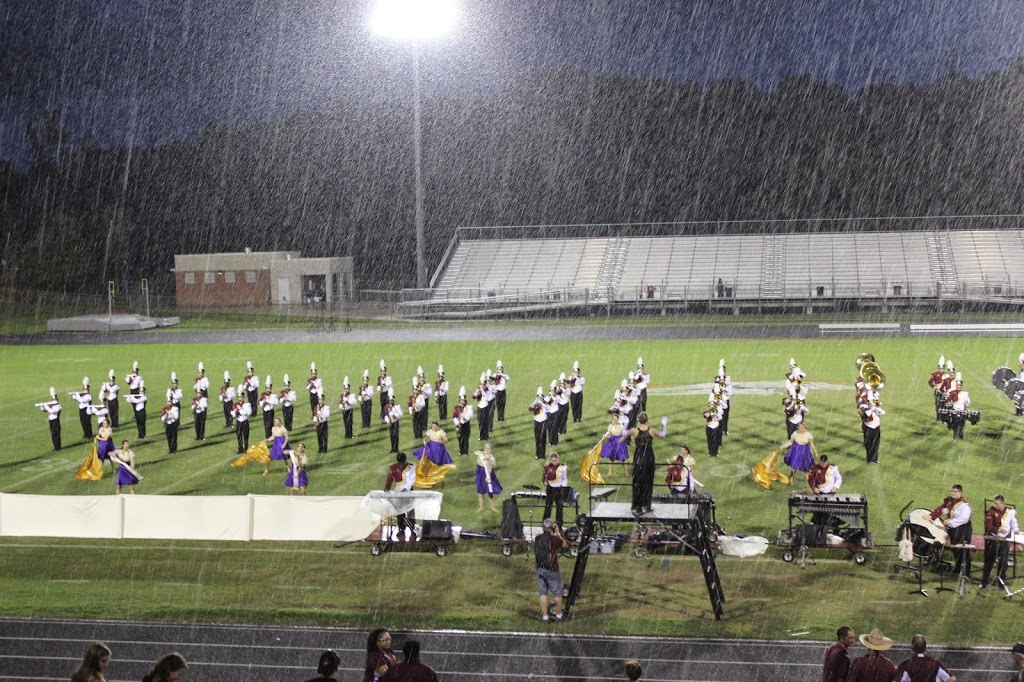 Photo Courtesy of Scott Keoseyan
Our Spartan Sound Marching Band spent a good amount of time Saturday night trying to dry out after getting caught in the rain. The annual Union County Marching Band Preview was held on Saturday, September 13 at Marvin Ridge High School. Even though most of the day was sunny and clear, the clouds became dark and the rain began just as the band began their show.
Our Spartan Sound marching band started the day in our own Spartan Stadium at 9:00 am with a three hour rehearsal, lunch, and another two hours of rehearsal. The band has been putting together their 2014 production titled The Pursuit of Happiness. The band's competition show this year includes songs from the 1920s and 30s, "Happy Days Are Here Again," Gershwin's "Piano Concerto in F Movement 3," "Smile," and "Get Happy."
Even though the marching band got rained on during their performance at the county preview, the members were still able to stay focused and put on an outstanding performance. The audience continued to cheer and clap to encourage the performers and recognize their strong performance. After the performance, the band quickly packed up their instruments and headed back to the buses to dry off. The guest adjudicators who were there to critique the bands let Mr. Reynolds know how impressed they were with the performance, especially under the extreme circumstances with the rain.
When it was all said and done, the students had done an amazing job on the field during the heavy rain and have gotten off to a strong start to their competition season. It may take just a couple days for the equipment and uniforms to dry, but playing in a massive rain storm will most likely be a memory not soon forgotten.
Spartan Sound Marching Band Season Schedule
September 27 – Cuthbertson HS
October 4 – Butler HS and Hickory Ridge HS
October 18 – Mooresville HS
October 25 – Porter Ridge HS
November 1 – Rock Hill District 3 Stadium